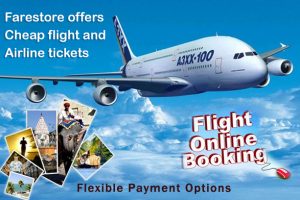 If you are dreaming of going on a fun filled low cost holiday but cannot afford it, and didn't have the luck to win free travel sweepstakes, we got you covered. Discover how to make your dream come true, how to enjoy the sandy beaches in the Caribbean, Cancun Mexico, Rio in Brazil with low fare flights. Here you will find useful travel tips on how to find low fare flights to any travel spot in the world, and also how to save for your domestic trips. We also offer you free strategies and tips to use in your planning so you don't have to spend your hard earned dollar finding cheap air tickets, cruise tickets or road trip tickets. The strategies listed here will help you save time and big money in everything from travel to other aspects of life generally.
Here are 28 useful tips on how to find cheap flights for low cost holidays.
1.Be flexible – When you are looking to find cheap flights to anywhere in the world, there is nothing like – it must be this or that, you must be ready to accept what comes cheap. Don't let airline travel schedules and dates change your plans, be ready to change to a flight schedule that suits you. Don't follow a restricted weekend or holiday only flights, make a plan to fly on any given schedule, by that you can save big money on your flights.
VISIT – Google Trips: for itineraries
2.Choose a Favorable Vacation Spot – Always remember that hot tourist spots cost more than lower destinations. You cannot compare the cost of vacation in Hawaii to that of Philippines. You have to chose a destination that you really love, and doesn't cost a fortune. If you chose a moderate spot, you will spend less and save more for other issues. Don't chose a destination because others are rushing to it, search first if it has the things you are looking for in a vacation spot or even on business trips. You can use free online tools or apps to compare the cost of living in different countries, hence helping you to find cheap flights.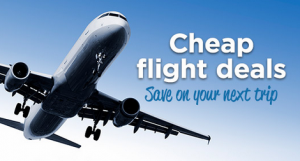 SEE ALSO – Best for Travel Planning – KAYAK
3.Use Technology – There has been a surge in new technology that helps people figure out how to travel on a tight budget and save big. You can search for online accommodation and hotel booking tools that helps to get daily accommodation costs from various travel destinations.
4.Search for Low cost Airlines – Now you have known your destination, how do you get a cheap ticket to fly there? Check different low fare airlines, and their ticket sale schedules. Some airline due start selling tickets very early, and you can take advantage of that and grab a good flight deal. Though, ticket prizes changes due to high and low flight seasons, but if you buy it very early, you will pay less compared to waiting till rush hours. You can buy tickets at low prizes if you purchase in advance or wait for last minute flights, but last minute flights most times can disappoint because most flights, specially to hot vacation spots are fully booked in advance before the flight date.
SEE ALSO – Best Airfare Site – Booking.com
5.Get Hotel & Accommodation Alternatives – How to get a cheap hotel and accommodation is one of the biggest issues that every traveler is concerned about. Depending on your form, if you are travelling alone, it's more cheaper to book hostels, but if you are two or more, it's more cheaper to book a double or multiple bed hotel and share the beds. However, it's not hard to find cheaper alternative accommodation options in most cities. some noted booking sites like Booking.com and Airbnb are some of the great places to find low cost inner city accommodation. You must have to book well in advance to get a chance because most of the best hotels, hostels and even top resorts are mostly fully booked months in advance. TalkTalk and Homestay.com are other great places you can find cheap accommodation in exchange for language practice. Community based language exchange homestay service is getting more popular by the day, and more tourists are resorting to that option.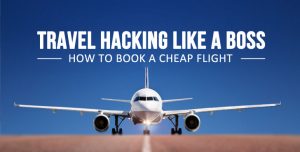 VISIT – Travel Itinerary: Trip Planner
6.Know the Best Day to Fly – This might sound amazing but cheap flights can be found depending on the day you choose to fly. When you bought ticket doesn't really matter, what decides the actual prize is the very day you choose to travel. Airlines have busy days when flights are fully booked and airports filled with passengers heading to different directions. Try to find out the typical off-peak days with airlines and fix your flight. You would be surprised to see a huge prize difference flying on and off-peak days. However, Fridays and Sundays are usually the most expensive days to fly with any airline. Avoid them if you want to save money.
VISIT – WorldMate: Travel Smart
7.Learn to Adjust the Time of Day for Your Flying – If for some good reasons, you decided to change the date of your flight but can't, change the time of day you choose to fly and that will change the price of your air ticket. According to experienced travel agents, "Flying at unpopular hours, such as the red-eye or early in the morning instead of late morning through afternoon, increases your chances of getting the best deal. Most of the time, the cheapest flights leave either very early in the morning or late at night".
SEE – For flight booking: When to Fly and Buy
8.Use the Cheapest Payment Method for Your Flight Tickets – Different airlines accept different payment methods therefore, you must have to find out which airline accepts the cheapest method that will also enable you to gain credit card member benefits, flyer points, and consumer protection.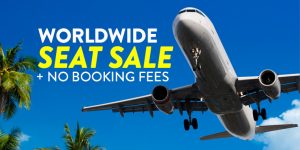 9.Get Optional Airports – It is highly encouraged to check out for more than one airport before booking your flight because the more options you have in terms of airports and flight schedules, the more likely you get the best deals and cheap flight tickets. Make sure you know where the airport is located before booking your flight, to avoid booking accommodation too far away from the city or your vacation spot. Most tourists make this mistake and ended up paying extra huge amounts for transportation.
SEE ALSO – How to Book the Cheapest Flight Possible to Anywhere
10.Go to Where There is Already Cheap Flights – Every traveler knows that choosing a certain holiday destination, and again spending time finding a good flight deal is a complete waste of time. To avoid that, why not fly directly to where cheap flights already exist. Just choose a favorable cheap destination you can afford, and save yourself a huge money. There are several flight search engines that can help you find a list of cheap flights to anywhere in the world.
VISIT – Read Reviews, Compare Prices & Book
11.Buy Round Trip Tickets – Did you know that one way ticket sometimes cost more than a round trip ticket? It is highly recommended to go for a round trip ticket when planning for international travel. It gives you more rest of mind in case anything happens on the trip, and it is cheaper though, there are many low cost airlines offering much cheaper fares.
MORE ABOUT PACKING LIST – PackPoint travel packing list app
12.Try Booking Two Airlines – Some airlines are really cheap flying one way, and if you discover such airline, you can book two separate one way flights with two different airlines and save some money.

13.Don't Fly During Holidays – If you want to get cheap air ticket to anywhere, avoid flying during major holiday periods because that's the time everyone is on the move, and airlines tend to charge high fares.
14.Choose Flights with longer Stopovers – While planning your trip, select flights with longer stopovers because they cost less though, it's annoying sometimes waiting long time at stopovers, but it saves you some bucks.
15.You can Join Frequent Flyer Program – Read more about Frequent Flyer Programs – Top frequent flyer programs to join!
16.Join Credit Card Affiliated Airlines – Most airlines have affiliated with major credit card companies to offer points to regular users. If you are using credit card for all your travel and living expenses, join the program to get frequent flyer points. As long as you use your credit card in member stores that are affiliated with the airline, you keep accumulating points.
READ MORE ON THIS – The Best Airline Credit Cards of 2018 for Miles
17.Register for Flight Deal Mail Notification Programs – Most airlines have promotional fairs and discount codes specially reserved for their subscribers. Budget airfare sales can save you good money, if you don't like to miss it, sign up for the airline newsletter, and get notifications for airfare sales and even last minute cheap flights.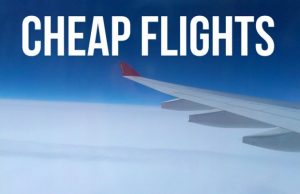 SEE ALSO – Best Flight Deals & Airfare Deals
18.Age/Student – Young adults and students enjoy special flight discounts. If you're a student or a young adult under 26 years old, check out the special discount programs and apply for it. This program will save you good money on flight tickets.
19.Buy Refundable Flight Tickets – Anything can happen when it comes to travelling, and the weather is unpredictable most times. Therefore, if your flight falls on typhoon, hurricane or rainy season, you better buy a refundable flight ticket, and trip cancellation insurance to be on the safe side in case of flight cancellations. It is noted that most airlines cancel flights during bad weather.
CHECK OUT – Transit connections: Discover how to get anywhere!
20.Pack Your Things in One Bag – Try to pack your luggage in one bag per person to avoid excess baggage hence paying airline fees. If you are the type who likes to go with everything, get ready to pay more at the airport. However, to save money, pack only essential items that would be contained in one bad per individual. If you are a regular traveler, most airlines due waive bag fees for regular customers. Alternatively, try if you can find airlines that does not charge fees for extra bags. If you cannot avoid the extra bags due to the things needed for the trip, it is cheaper to check the baggage, and pay for it in advance instead of doing it at the airport which charges the normal fees.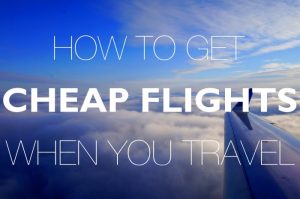 READ MORE – Compare Cheap Flights, Hotels & Car Hire
21.Get the Best Bank Card – If you want to travel on a budget and save big, try to get a standard credit or debit card from major card companies or banks. The use of credit or debit card can save you money in both conversion and transaction fees. Always look for a credit or debit card that will not charge you for withdrawing cash overseas or for withdrawing money in a different currency. You can also use prepaid cards which lets you top up before you fly out and incur no fees when you withdraw money.
CHECK OUT – The Best Travel Credit Cards for Rewards of 2018
22.Know When to Buy Your Airline Tickets – If you are looking for cheap air tickets, be aware that holiday peak seasons and major long weekends when almost everybody is on the move will definitely cost more. So what are your options here? Search the airlines and get to know when their tickets are selling at low prizes and dive in to get your ticket. if you wait for even a day longer, you will wake up to see the ticket prizes increased.
SEE ALSO – Cheap Flights, Airline Tickets & Airfares
23.Share Taxi with Other Tourists – The best way to enjoy a cheap budget trip is to travel with a group of other exciting tourists. The good thing about travelling with others is not only making new friends but you are going to save lots of money on transport costs by sharing the costs of taxis and boat trips. However, if you are travelling alone or with your partner, you can ask other tourists to join you on local tours to reduce the cost per person.
24.Travel Locally by Bus or Train – Instead of travelling by local air plane, go by bus or train and save lots of money. Though, it takes a longer period of time travelling by land to your destination, but as a tourist, you are not in a hurry for anything. As a tourist, moving around by land also gives you an opportunity to see more of a country and its people and often stops in places you would never see if you had taken a flight. In a business travel where time is money, you better go by domestic flights if you want to get things done on time.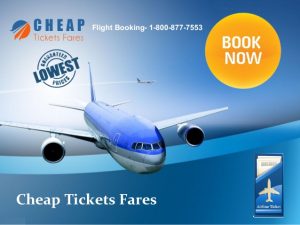 SEE ALSO – Cheap Domestic and International Flights
25.Eat Local Street Foods Like Everyone – If you are travelling on a budget, and likes to save more money, eat the local street foods just like everyone else because your usual Western style cuisine costs a fortune. In many holiday destinations in Asia, Africa, South/Central America, you can buy a local food with as little as $1 but a western style dish would cost you more than $7 with a tip. Eating local food is also a great way to get acquainted with the culture of the place you're visiting. People always feel excited seeing a foreigner line-up with locals waiting at a road side food stand.
26.Cook Your Own Food – Some might be wondering how you will cook your own food as a tourist. Most holiday destinations where the cost of food is high whether local or foreign, have introduced self-catering services. Meaning, you can cut costs and save lots of money by making your own food in a shared kitchen areas. Some notable camp-sites and popular hostels now have free BBQ and shared kitchen facilities where tourist can relax and cook their own food and wash things up after. Cooking for yourself is a great budget travel strategy to save lots of money on food. Best if you are travelling in group.
SEE ALSO – Best for Comparing Features: Hipmunk
27.Get Free Accommodation with Your Talent – Due to many exciting places to visit and several activities to try on, you might want to stay longer in a particular destination but, you have ran out of money and definitely cannot afford it. What are you going to do? In a situation like this, if you are talented in any particular field or have skills that is needed everywhere, you can easily exchange your talent and get a fee accommodation or free food to continue your trip. However, it's becoming a trend how some hostels are offering free accommodation to talented artists, musicians, cooks and English teachers in
exchange for artwork on their walls, music performances, and teaching oral English communication to an arranged local students and office workers.
SEE ALSO – Search and Compare Cheap Flights
28. Get a Homestay Instead of Hotel – Homestay services enables you to stay with a family and exchange language lessons in exchange. You will save good money in homestay compared to hotel besides, it gives you great joy and opportunity to understand the culture and traditions of the people you are staying with in particular and the country in general.
VISIT – Homestay accommodation worldwide
Hope you enjoyed reading the post, and will find above low cost travel tips useful as you plan for your next trip. Leave your comments at the bottom comment box.