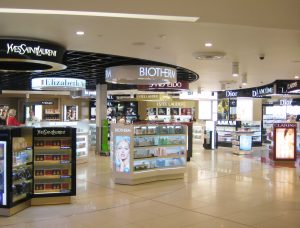 Searching for the best airport duty free shops? Welcome on board. We have searched deeply to gather some of the best airport duty free shops where you can easily shop for quality duty free perfumes, duty free watches, smart phone duty free, and can also negotiate for duty free shopping online with several trusted duty free stores. Duty free shop is a retail outlet that is exempted from the payment of certain local or national taxes and duties, on the terms that the goods would be sold to travelers who will take them out of the country. Duty-free shops are often found in international airports, sea ports, and good train stations however, the goods can also be bought duty-free on board airplanes and passenger ships. If you are a fan of duty-free items, always check them out at the airports whenever you are travelling. Airport duty-free shops helps calm down passengers as they while away the time during stop overs or while waiting for flight connections. However, it is also a great travel experience, roaming around the airport, watching people of all ages and races moving in and out of the airport shopping for products in various duty-free stores. Only few busy passengers can only make deals for duty free online shopping as they cannot carry heavy loads of items while travelling around. If you are a regular traveler, you should know how boring and tiring waiting at the airport to re-book a cancelled flight or waiting for a connecting flight to an unknown destination is to a tired tourist. Duty free shops only operate at the airports with special price deals you cannot find anywhere outside the airport. Though duty free shopping is the last thing in any traveler's mind, the idea only pump in when you see interesting items with a cheaper price tags as you wonder around the airport. First you look and window shop, then you enter the shop and discover a whole lot of interesting products for Birthday presents and gifts. However, duty-free shopping is only comfortable if you are on your way home.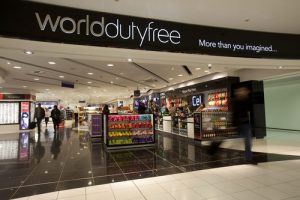 Duty free business has modernized the way airports are been operated. Now airports are making substantial profits through the duty free shops, unlike before when people just move around the airport with nothing to purchase. Now most modern airports have been modernized to include top quality restaurants, duty-free shops and entertainment venues that suits all kinds of passengers. Great effort has been made in turning airports into friendly shopping locations with quality items like duty free watches, duty free perfumes, duty free iphones, blue label price duty free, and more. At the same time, home made high quality products are also displayed in most duty free stores hence generating more revenues for the country in particular and creating jobs for the youths in general. We searched the web to bring you the best airports for duty free shopping, and duty free shopping online.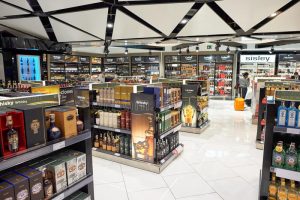 Here are 10 best Airports to shop for duty-free products:
1 – Dubai International Airport
Some might be surprised to ask, why Dubai International Airport of all the airports in the western world? Well, the answer is not far-fetched, the airport is fantastically beautiful with all the duty-free shops that showcases quality goods from around the world. It is the biggest airport retailer in the world. People from all works of life travel to the tiny nation just to have a glimpse of the duty free stores everyone is talking about. Travelling through Dubai International Airport, and purchasing luxury goods at the duty-free shops has now become something people cherished most in their travel ventures. If you want to see the best of Dubai duty-free shops, travel there at the end of the Holy Month of Ramadan, and see why the airport was rated so high among other noted airports. It is also hard to believe how the airport is offering duty free deals to regular visitors and special incentives to encourage more new travelers to engage in their duty-free shopping online. You don't need to travel there to believe, thousands of tourists who flood Dubai duty free stores every year can't be wrong.
SEE – Dubai Airport Duty-Free Special Offers
2 – Hong Kong International Airport
Hong Kong has long been an international trade gateway ever since the British era, and the airport has been modernizes to suit the passage of numerous goods produced in China and marketed via Hong Kong duty-free stores. Most of the goods found in Hong Kong duty-free stores are oriental products but you can equally see high quality western made goods with moderate prize tags. The airport has long been modernized and expanded to a new location with modern well organized duty-free shops which offers less expensive items along side luxury goods. The idea is to make sure that anyone who enters a duty-free shop in Hong Kong International Airport sees something of interest to purchase. However, the airport also offers duty-free on goods that are not really considered luxury and expensive.
SEE ALSO – Hong Kong Airport Duty-Free Special Offers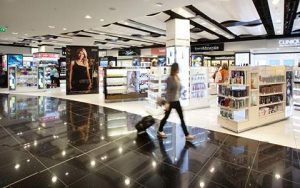 3 – Paris Charles de Gaulle Airport
Paris Charles de Gaulle Airport has been one of the best airports for duty-free shopping for as long as we can remember, and they have maintained the standard to the modern era. Duty-free shopping in Paris Charles de Gaulle Airport used to be exclusive luxury and expensive items affordable only by rich travelers, but the trend has long changed. With the new generation now moving away from exclusive luxury goods and embracing more modern cheap fashionable goods, the airport has adopted more simple approach to airport duty-free shops. So whether you are looking for designer goods or simple less expensive items, you can find it all at the duty-free retailers at the airport. However, if you are only interested in brand name goods, you are very much welcomed on board.
SEE – Paris Charles de Gaulle Airport Duty-Free Special Offers
4 – Heathrow Airport
Heathrow Airport has been one of the oldest world commercial capital since the done of colonial era when only the rich and affluent can afford to travel, and had a chance to shop at the duty-free shops. However, the trend has now changed and Heathrow Airport has long been modernized to embrace the new era of modern airport duty-free shops where both luxury goods are displayed and sold along side moderate and cheaper items that every Tom, Dick and Harry can afford. The airport is generally huge and covers a large portions of the area with big duty-free retailers displaying both made in England goods and foreign made items all well placed to catch the attention of every traveler. If you are walking around Heathrow Airport or having a cool meal at a nearby restaurant, you cannot avoid the special discount attractions of the duty-free stores.
SEE – Heathrow Airport Duty-Free Special Offers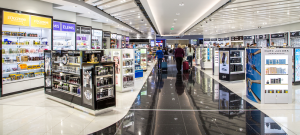 5 – Amsterdam Schiphol
Who else is coming to Amsterdam Schiphol Airport? The airport is a world class with security aparratus and well spaced duty-free shops retailing high quality arts and several goods from around the world. The airport is one of the best places in Europe to find deals on duty-free goods. Besides duty-free special discounts, most stores also run promotions which they use as tools to lure in travelers. So it doesn't matter where you are in the airport, they will catch your attention one way or the other with eye catching attractive duty-free discounts, and even more relaxing offers like duty-free shopping online.
SEE – Amsterdam Schiphol Airport Duty-Free Special Offers
6 – Seoul Incheon International Airport
This is another main Asian airport making wave not only in Asia but around the world. Seoul Incheon International Airport is famous and noted for its electronics and gadget stores, but you can also find products from China, Japan, EU, USA, and other parts of the world well displayed in various duty-free stores with Korean Language and English translations. One special smart move this airport made is that you can easily purchase duty-free items from retailers within Korea and the goods are then sent to the airport for you to collect on your way out of the country. Not only that, they will allow you to make purchases online, with designated places to pick up your goods before departure. This is a smart marketing strategy that will induce more travelers to the country. The airport duty-free shops displays high quality goods to gain the trust of international travelers therefore, you have no reason to feel in-secure after completing your duty-free deals. Due to the airport smart duty-free deals, more travelers have rated Seoul airport as their favorite airport in the world for duty-free shopping. Welcome to Korea.
SEE – Seoul Incheon International Airport Duty-Free Special Offers
7 – Frankfurt
Frankfurt airport is one of the biggest and indeed busiest not only in Germany but in Europe. Though you hardly get stranded at their airport because messy cancellations and delays are very rare or rather not in existence. Everything seemed to be perfectly fit and arranged, and the duty-free stores strategically spaced in a special corner of the airport where travelers can easily glance at discounted goods as they pass-by. One thing is for sure, all the duty-free items at the airport are high standard and you can pre-order your duty-free 12 or more hours before your flight and pick them up at Heinemann store or other arranged outlets near the airport.
SEE ALSO – Frankfurt Airport Duty-Free Special Offers
8 – Zurich
Zurich airport is one of the best in the world where millions of travelers pass everyday. One of the major attractions at the airport has been great number of duty-free stores displaying all those luxury and high standard watches you normally see in pages of magazines. They have all the old fashioned duty-free classics watches, whiskey, chocolate, cheese and more. They also allow you to order any product of your choice from any duty-free store online and then pick your order when passing through to catch your flight. Zurich is one of the best airports where Europeans can buy duty-free goods while traveling on the continent. It's also hard to avoid the charms of Zurich airport duty free stores. They let you shop until you drop.
SEE – Zurich Airport Duty-Free Special Offers
9 – Miami
This airport is surely one of the busiest in North America because it stands as American's gateway to Central and South America. With so many travelers moving in and out of the airport at the same time, duty-free shops are having field days. The airport has been upgraded to contain the huge number of travelers passing through everyday, and the duty-free shops are cashing in on every development by offering both luxury goods and less expensive items to attract both the rich and moderate travelers to shop duty-free at the airport or shop duty-free online. The excellent customer services given to travelers at Miami airport has made them stand out to be one of the best airports to shop for duty-free.
SEE ALSO – Shop Miami Airport Duty-Free Special Offers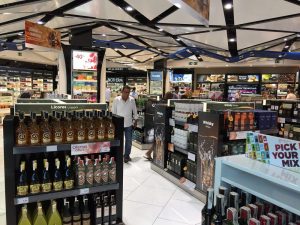 10 – Singapore Changi Airport
This airport is best known for connecting flights not only in Asia but also for international flights. It is a hub city where flight prices are generally cheaper and affordable for everyone. The airport is a heaven for duty-free shopping, you can see high quality goods displayed at attractive locations in every store without even stepping inside. The duty-free shops are well spaced to catch the attention of any traveler roaming around or waiting to connect a flight. If you are too busy to make a purchase at the airport, you can comfortably buy any item through duty-free online, and take advantage of several duty-free deals available to online shoppers.
SEE ALSO – Singapore Changi Airport Duty-Free Special Offers